Manual Compression Testing Machines
High Capacity Series Compression Testing Machines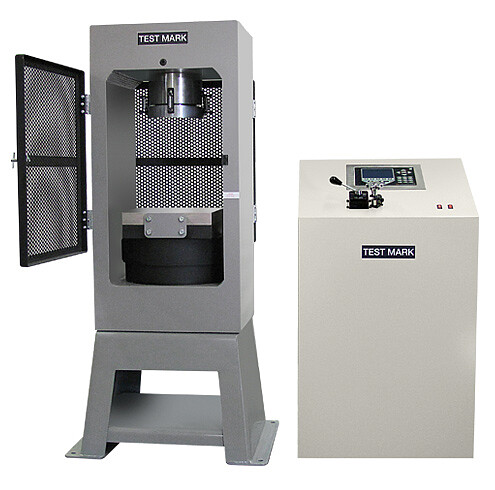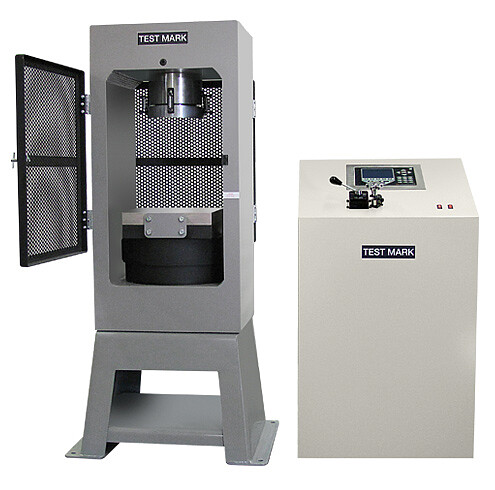 Meets ASTM C-39, E-4 and AASHTO T-22 specifications.
Accuracy range of ±.5% of indicated load from 1% to machine capacity.
Request a Quote
High capacity series machines feature rigid distortion-resistant load frames that are designed to meet the demands of testing high-performance concrete in a production testing program, where accurate and repeatable test results are required. Compare their frame specifications for both crosshead thickness and depth of their side members and judge for yourself. Test Mark machines load frames will stand up to the long term punishment of high performance concrete testing year after year.
Designed for easier operation and loading of specimens, all load frames feature a wide horizontal opening, large lower platen table, bottom-mounted piston with dust shield, heavy duty load frame mounting stand that positions the lower platen at a convenient height for easier loading of heavy test specimens, our quick change platen system and steel front and rear safety guard doors. The lower platen table is through hardened to 55 HRC or greater for longer service life, plated for corrosion resistance, ground plane and has concentric circles for easier centering of test specimens.
A quiet running hydraulic pump is rated for continuous duty, with all of its components and those of the loading control valve manufactured to ISO 9001 international quality standards. The control valve is pressure compensated for a smooth and constant rate of loading.
Available with three different load indicating systems, select from a basic budget minded unit or an advanced system that will automatically calculate and display stress test results, store test data, and will transfer to PC all of the test data required for a C-39 test report.
Machines are available in two model styles, as a fully self-contained model or with a separate free-standing control console. Self-contained models feature a space saving design configuration for easy accessibility and safer operation by positioning the operator to the side of the load frame during a test. This is accomplished by mounting the digital indicator on the side of the load frame directly above the loading control valve and hydraulic pump.
Console models normally have the console positioned on the right side of the load frame with the digital system, loading control valve, hydraulic pump and electrical components housed within it. The consoles 30° sloped face allows for easier reading of the digitals display, and the close arrangement of its keypad to the loading control valve promotes economy of movement for the operator. Consoles are supplied standard on all machines of 800,000 lbs. (3,559 kN) capacity and higher.
Standard safety features include steel fragment guard doors on both frame openings and a high pressure hydraulic safety valve which prevents the machine from operating beyond its maximum capacity. Optional safety features include a piston over-extension limit switch (available on all models) and an electronic overload protection switch. This switch automatically turns the hydraulic pump off when the machine reaches its maximum capacity or at sample failure, and is available on iD and TS17 models only.
Optional test platens and spacer sets are available for testing a wide range of specimen types, all meeting ASTM and AASHTO specifications.
Meets ASTM C-39, E-4 and AASHTO T-22 specifications.
Warranty 2 years on parts and labor.
Specifications for CM-6000, CM-8000 and CM-1000 available upon request.