Manual Compression Testing Machines
Masonry Series Testing Machines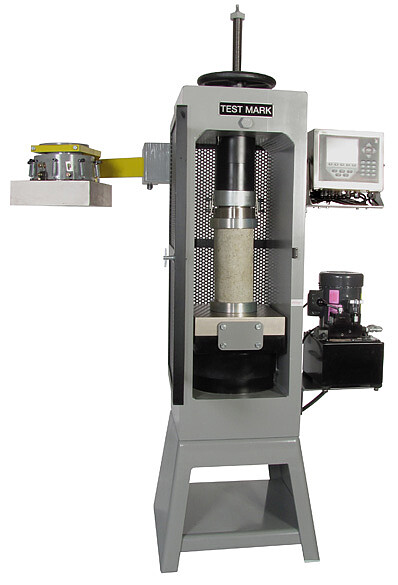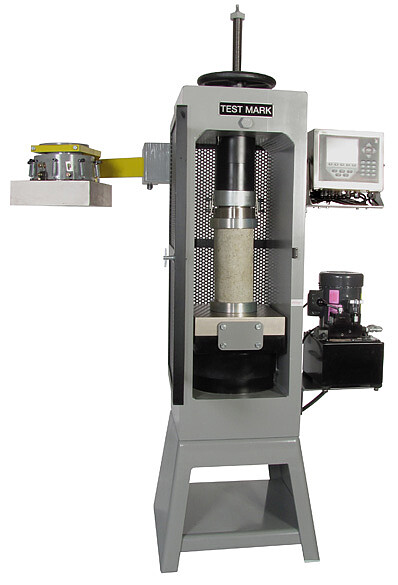 Meets ASTM C-39, E-4 and AASHTO T-22 specifications.
Test blocks, masonry prisms, pavers and retaining wall units.
Testing range from 1% to full machine capacity, with an accuracy of ±.5% of indicated load.
Optional accessories for testing a full range of concrete and cement products.
Request a Quote
Masonry series machines are available in two load frame configurations for testing single or two block masonry prisms of full sized block up to 12" (304 mm) wide. The heavy duty load frames use the same proven design and manufacturing process found in all of our machines, with a wide horizontal opening and large compression platen table for easier loading of heavy specimens. The machines mounting stand also places the lower platen at a convenient working height.
The unique lower dual-platen system features a through hardened wear platen. It is designed for fast and easy maintenance, unlike the cumbersome single platen systems used in competitive units. Changing test platens and spacers is quicker, easier and safer with our draw rod and carrier bracket system. The draw rod uses slide on spacers to adjust the load frames inside vertical working height. The optional carrier bracket features a heavy-duty swing arm mounted on the rear corner of the load frame. The arm pivots on two hinged joints, allowing it and the block platen to rotate smoothly into and out of the load frame. When the block platen is not being used, it is conveniently stored on the bracket.
Their quiet running continuous duty .75 hp (6 kw) hydraulic pump and loading control valve are manufactured to ISO 9001 international quality standards.
Available with three different digital load indicating systems, select from a basic budget-minded unit, or an advanced unit that will automatically calculate and display stress test results and will transfer to a PC all of the test data required for a C-39 test report.
Machines are available in two model styles, as a fully self-contained machine with indicator, hydraulic pump and loading control valve mounted on the right side of the load frame. Console model machines feature a free standing console positioned on the right side of the load frame. The console houses the indicator, loading control valve, hydraulic pump and electrical system.
Standard safety features include steel fragment guard doors, a high-pressure hydraulic safety valve which prevents the machine from operating beyond its maximum capacity, and a piston over-extension limit switch on all models. Optional safety feature is an electronic overload protection switch that automatically turns the hydraulic pump off when the machine reaches its maximum capacity or at sample failure. This option is available only on machines equipped with iD and TS17 indicators
Optional test platens and spacers are available for testing a wide variety of specimen types.
All models have a two year warranty on parts and labor.
Masonry Series Testing Machine Specifications
CM-500B
CM-500P
Max. Compression Capacity
500,000 lbs
2224 kN
500,000 lbs
2224 kN
Vertical Opening *
18.375 in
467 mm
26.750 in
679 mm
Horizontal Opening
14 in
356 mm
14 in
356 mm
Piston Stroke
2.5 in
63.5 mm
2.5 in
63.5 mm
Machine Dimensions on Stand
Width
30 in
762 mm
30 in
762 mm
Depth
23.750 in
603 mm
23.750 in
603 mm
Height
60.625 in
1,540 mm
68.875 in
1,749 mm
Lower Platen, Diameter
Width
13 in
305 mm
13 in
305 mm
Depth
16 in
406 mm
16 in
406 mm
Upper Platen (Type Swivel Seat) Diameter **
6.5 in
165 mm
6.5 in
165 mm
Pump Electric
.750 hp
.6 kw
.750 hp
.6 kw
Oil Reservoir Capacity 
2 gallon
7.6 liter
2 gallon
7.6 liter
Electrical Requirements
115/230/1/60/50
Shipping Weight
2,800 lbs
1,270 kg
2,960 lbs
1,342 kg
Console Dimensions ***
Width
18 in
457 mm
18 in
457 mm
Depth
18 in
457 mm
18 in
457 mm
Height
44.25 in
1,124 mm
44.25 in
1,124 mm
* Frame opening dimensions are without test platens installed
** Upper Test Platen MA-0101 is supplied standard on all Models
*** Consoles are standard with all C-Model Machines
Specifications for CM-6000 and CM-8000 series Masonry Testing Machines available upon request